LOCATION
THE ASPENS ON BLACKCOMB
WHISTLER, BRITISH COLUMBIA, CANADA
ABOUT THE LOCATION: WINTER
The Aspens on Blackcomb is the ultimate Whistler ski accommodation location. You are close enough to the slopes that you can almost touch the Wizard Express Lift, making this rental a true ski in ski out accommodation. Use this lift to access both mountains (Blackcomb and Whistler). The Aspens Blackcomb also offers the convenience of immediate access to Whistler Kids Kamp and Whistler Blackcomb Ski School. A full-service ski shop is right on the premises and offers valet services.
ABOUT THE LOCATION: SUMMER
There is a bike rental shop with valet bike storage on the premises and free bike storage in the garage. There is a gas grill on the deck. Easy walking distance to the famers market and Blackcomb base adventure zone.
The Aspens on Blackcomb offers fabulous views of Whistler Mountain and overlooks the Fairmont. A perfect location- surrounded by pine trees and nature, with a mere 5-minute FREE shuttle ride to the main Village. A convenient way for anyone to vacation, the Aspens on Blackcomb offers a great location for couples and families. Guests can walk through the pool area to Upper Village (in 5 minutes) and Whistler Village (in 10 minutes).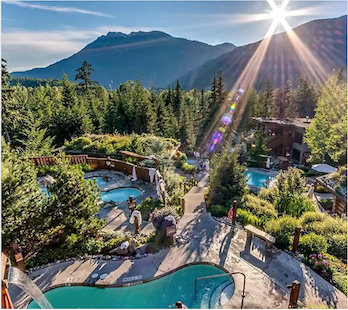 GETTING AROUND

The property features the best slope-side location under the Wizard Express Chair. The Whistler Upper Village, perfect for families, is located just a ten-minute walk from Whistler Village. Typically, guests do not require a car at this Whistler ski in ski out location, though parking is available.
There are shuttle busses available just minutes from the 24-hour front-desk at the Aspens, which delivers guests to the main Whistler Village. Many restaurants, boutiques, and other shops are located in the Upper Village.